본문
VJ-T (M8 & M10 & M12)
VJ-T (Screw-in) for onshore
- New fastening system of self tapping screw type
- No need fastener gun / powder (cartridge)
- Easily, Quickly, Simply, Confidently
- Pull-out load : 14.0kN (avg.) / Shear load : 13.0kN (avg.)

VJ-T Fixture Pin
A new technology of Grating & Multi-purpose Fastening System
Principle of VJ-T Fixture Pin
The VJ-T Fixture pin can be used as an alternative to the welds and bolts used to attach materials to structual

steel and for fastening applications in onshore / shipbuilding and offshore plants.

The VJ-T Fixture pin series were made of forged and integral, Taptite (Self-screw type).

Taptite thread will be screwed in into a pre-drilled hole. and taptite screw is tapping its own internal mating

threads when installed into base material.
Advantages of VJ-T Fastening System
For base material th'k ≥ 6.0mm, the fastener is intended to be set in a pre-drilled pilot hole.
The advantages of pilot hole is no through penetration of the base material therefore no rework of the protective surface coating on the back side is needed.
No maintenance – No corrosion – No inspection – No painting damage

Work Efficiency – Easy / quick installation ( Only 15 seconds for VJ-T fastener installation )

High safe – No drop hazard – longer durability

Easy removal / reinstall for maintenance
Application for Grating Fastening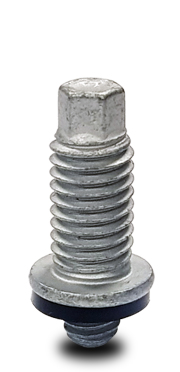 VJ-T [M8]
Application for Multi-purpose Fastening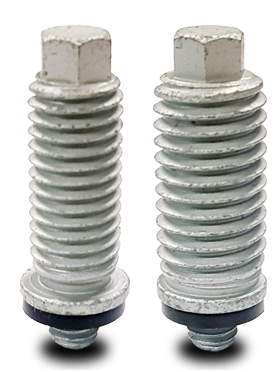 VJ-T [M10] / VJ-T [M12]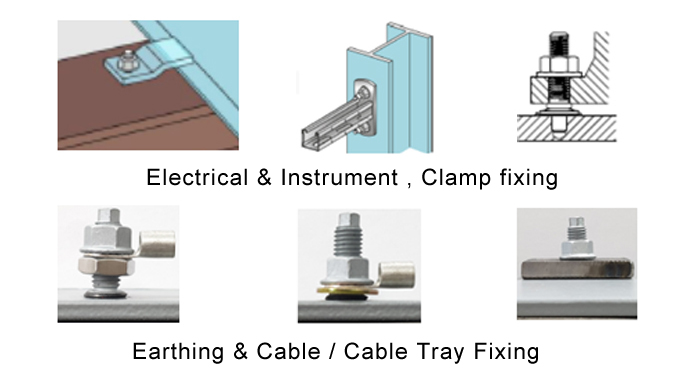 Structure of VJ-T Fixture Pin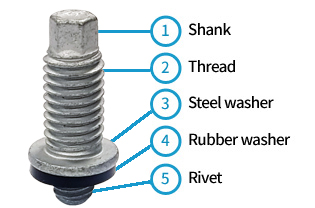 Material : Carbon steel + GEOMET 720 Coat. or PFZnNi Coat.

Feature

Forged Integral type [KIST Patent]

High pull-out / shear load through taptite screw (triangle thread)

Salt spray test ≥ 1,000 hr - No visible red rust




Strong durability of corrosion